January Project Showcase
This month's project showcase is non other than Yum Yum Shaved Ice and Treats owned by the late Angela Burns. Yum Yum is the bubbly pink and yellow tiny house located at 2909 Terry Road, Jackson, MS in Roses parking lot. Yum Yum tantalizes your taste buds with their own character themed snow cones, Kool-aid pickles and their famous Hot Cheetos cheese fries. When Angela contacted me in January of 2016, she wanted a complete branding campaign for her business. "I'm starting a new business and I'm gonna need everything Jen." is what she said when we talked. She wanted something bright and fun that would grab the attention of children but also had a very clean professionalism that their parents would take serious and would want to patronize. First was the logo. After completing the design worksheet, Angela allowed me to get to work. I came up with 4 concepts for the logo design.
It didn't take long for Angela to choose with complete certainty that logo 2 was the new look for Yum Yum. Up next, business card, menu card, menu board and banner. With the menu card, the goal was to get all 36 of the standard flavors, character themed flavors and their "recipes", extras, milkshakes and other items and pricing on a 4 x 6 postcard and to give it the same child-like playfulness of the logo. Mission accomplished with a front and back design for the postcard. For this project, Angela did opt to have J. Ward Design take care of her printing needs as well. We used a 14 pt card stock with UV coating on the postcard and business cards. The menu boards were printed on PVC board and had a semi gloss sheen to them. For the banner we opted for a durable matte vinyl.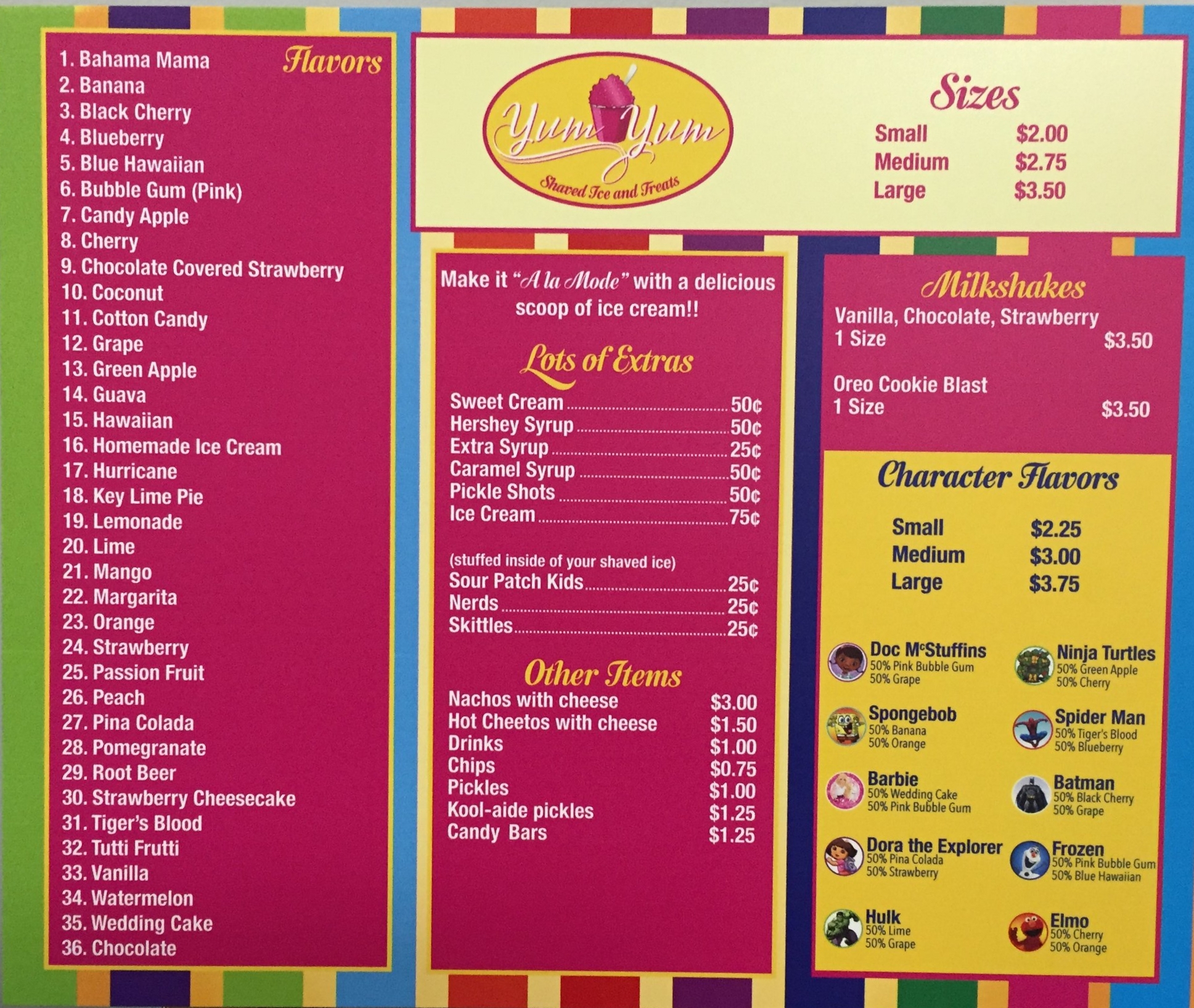 I had the opportunity to stop by Yum Yum last summer and not only was I so please with the way all of the marketing pieces flowed with the brand Angela had in mind, I got a chance to taste a mouth watering and ever so refreshing banana flavored snow cone. They are just what you need in the middle of Mississippi heat. Her tiny house was bright in color and could be seen distinctly from the busy street and cars were in heavy rotation, lined up to experience those sweet treats.
Sadly, Angela unexpectedly passed away in December of 2016. Not only was Angela one of my favorite clients, she was a classmate whom I had known for many years. She will truly be missed by all that knew her. It's to my understanding that Yum Yum will reopen in the spring as planned and that proceeds from sales will go to fund a non profit organization started in Angela's honor.